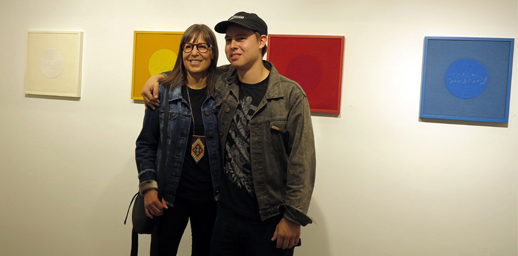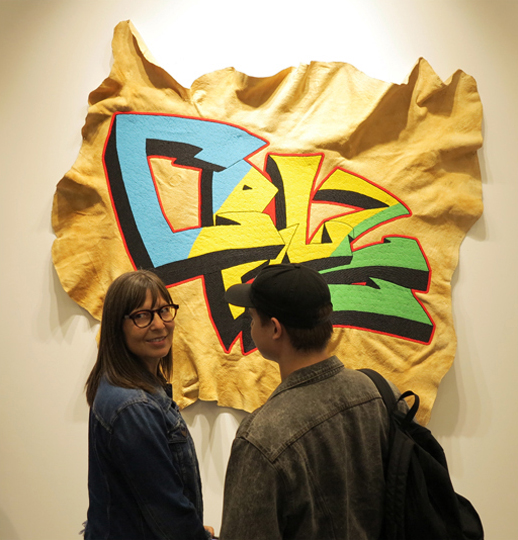 BIO
Judy Anderson is Nêhiyaw (Cree) from Gordon First Nation, Saskatchewan, Treaty 4 territory and an Associate Professor of Canadian Indigenous Studio Art in the Department of Art at the University of Calgary. Anderson's practice includes beadwork, installation, hand-made paper, painting, three-dimensional pieces, and collaborative projects all of which are deeply personal with a focus on issues of spirituality, family, colonialism and Indigenous epistemological and ontological traditions.
Her current work is created with the purpose of honouring the people in her life and Indigenous intellectualizations of the world. She also has an ongoing collaboration with her son Cruz where they combine graffiti with Indigenous methodologies, and she has been researching traditional European methods and materials of painting.
CURRICULUM VITAE
EDUCATION
2008 M.F.A. (Painting) University of Regina.
2002 B.F.A. (Painting) with Great Distinction, University of Saskatchewan.
1998 B.A. (Native Studies) with High Honours and Most Distinguished Graduate, University of Saskatchewan.
1990 Diploma (Visual Communications) Grant MacEwan Community College, Edmonton, Alberta.
SOLO EXHIBITIONS
2017 They told me to honour him…, Project Space Gallery, Melbourne, Australia
2008 Issue/d Paper, Harcourt House, Edmonton, Alberta, Canada
2007 Coyote's Trick, MacKenzie Art Gallery, Regina, Saskatchewan, Canada
2005 Caution: Not Suitable for Children, Moose Jaw Museum & Art Gallery, Saskatchewan, Canada
2002 Caution: Not Suitable for Children, Wanuskewin Heritage Site, Saskatoon, Saskatchewan, Canada
2002 Caution: Not Suitable for Children, B.F.A. Graduating Show University of Saskatchewan, Saskatoon, Saskatchewan, Canada
GROUP EXHIBITIONS
2020 Bead Speak 2.0, Slate Gallery, Regina, Saskatchewan, Canada
2020 BACA (Biennale d'art contemporain autochtone / Contemporary Native Art Biennial): Honouring Kinship, Montréal, Québec, Canada
2020 Biennial of Contemporary Art, Remai Modern, Saskatoon, Saskatchewan, Canada
2019 Relate(d), Point Gallery, Salt Spring Island, British Columbia, Canada
2019 Power Play: Hockey in Canadian Contemporary Art, Art Gallery of Windsor, Ontario, Canada
2019 Beading Now, La Guilde 1906, Montréal, Québec, Canada
2017 Extratextual, Contemporary Calgary, Calgary, Alberta, Canada
2017 Eye of the Needle, Glenbow Museum, Calgary, Alberta, Canada
2017 Salt Spring National Art Prize, Bau-Xi Gallery, Vancouver, British Columbia; Salt Spring Island, British Columbia, Canada
2016 Sole Project, Art Gallery of Regina, Regina, Saskatchewan, Canada
2016 Bead Speak, Slate Fine Art Gallery, Regina, Saskatchewan, Canada
2014 It's Fine Arts, First Nations University of Canada Art Gallery, Regina, Saskatchewan, Canada
2013 – 2018 Walking With Our Sisters, Travelling, Canada and United States
2013 – 2014 Working Mom, Last Mountain Lake Gallery, Regina Beach, Saskatchewan, Canada
2013 Coming into View: Honouring the Professional Native Artists Inc., Slate Fine Art Gallery and Sakewewak Artists' Collective Inc., Regina, Saskatchewan, Canada
2012 –2013 The Synthetic Age: Fine Arts Faculty at the University of Regina and First Nations University of Canada, MacKenzie Art Gallery, Regina, Saskatchewan, Canada
2012 Critical Faculties, First Nations University Art Gallery, Regina, Saskatchewan, Canada
2011 Prairie Post Moderns, Dunlop Art Gallery and ACCESS 7, Regina, Saskatchewan, Canada
2011 Toys Gone Rogue, Dunlop Art Gallery, Regina, Saskatchewan, Canada
2011 Mind the Gap!, Estevan Art Gallery, Estevan, Saskatchewan; Ottawa Art Gallery, Ottawa, Ontario; Art Gallery of Swift Current, Swift Current, Saskatchewan; GeNext, Art Gallery of Regina, Saskatchewan, Canada
2010 This Train – Fine Arts Alumni, 1990 – 2010, Kenderdine Gallery, Saskatoon, Saskatchewan, Canada
2009 Mind the Gap!, Dunlop Art Gallery, Regina, Saskatchewan, Canada