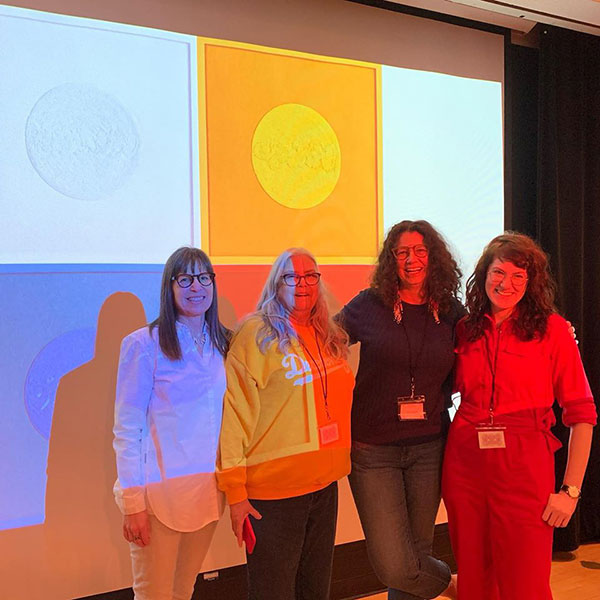 SYMPOSIUM: Ziigimineshin Winnipeg 2020
Following last year's Manidoominensagemin (We are beading) in Toronto that was hosted by the Canadian Textile Museum, this year's Ziigimineshin took place in Winnipeg. The symposium was organized by the Manitoba Craft Council (MCC) in partnership with Urban Shaman, Manitoba Museum, with ancillary programming by MAWA (Mentoring Artists for Women's Art). As with with Toronto, that was held in conjunction with curator Lisa Myer's exhibition Beads, they're sewn so tight the Winnipeg symposium included the following exhibitions that ran concurrently:
On the Friday, Judy Anderson participated in the panel Knowledge Transmission: When the Lines are Broken with Katherine Boyer (Metis, Regina, Saskatchewan), Ruth Cuthand (Cree and Scots, Little Pine First Nation, Saskatchewan) and Dr. Carmen Robertson (Lakota and Scottish, Standing Buffalo, Saskatchewan).
The Beadwork Symposia are intended to contribute to and build on the scholarship around contemporary Indigenous art with a focus on how beadwork builds community; through making and learning together, opportunities will be created for the exchange of knowledge and the building of community. (read more)
The keynote was presented by Dr. Jolene Rickard and along with the above mentioned, other speakers for the Winnipeg Symposium included:
Brandon Beading Babes
Dr. Sherry Farrell Racette
Cathy Mattes
Paige Mukash
Lisa Myers
Margaret Nazon
Amber Sandy
Tuscarora Beading Group
Dr. Ukjese Van Kampen
For more information visit the Ziigimineshin website.